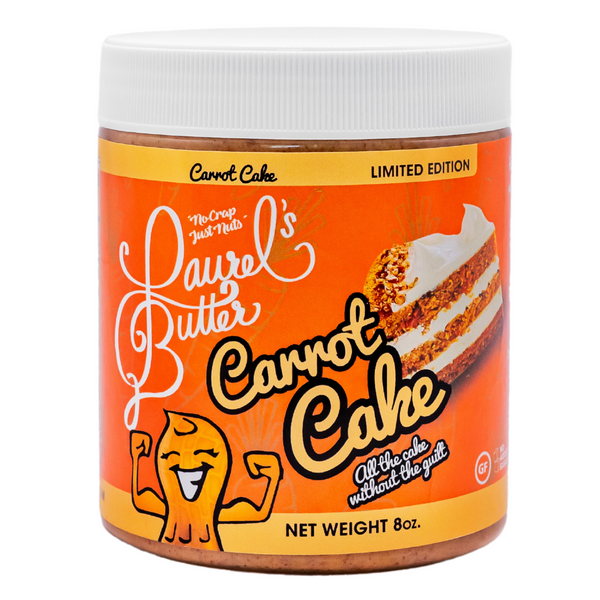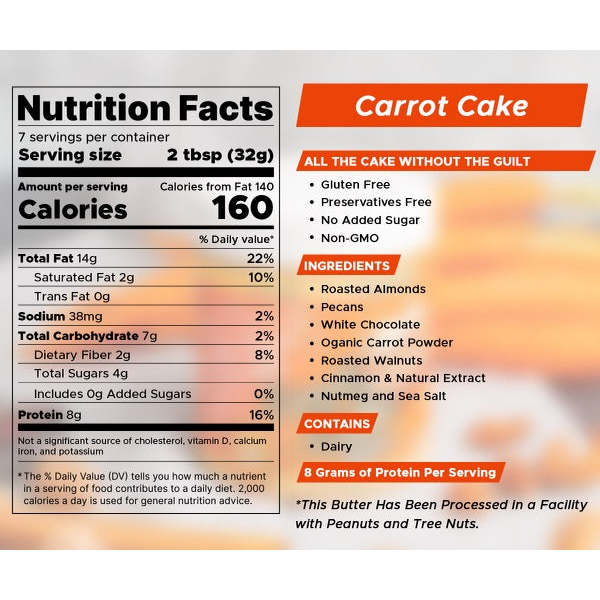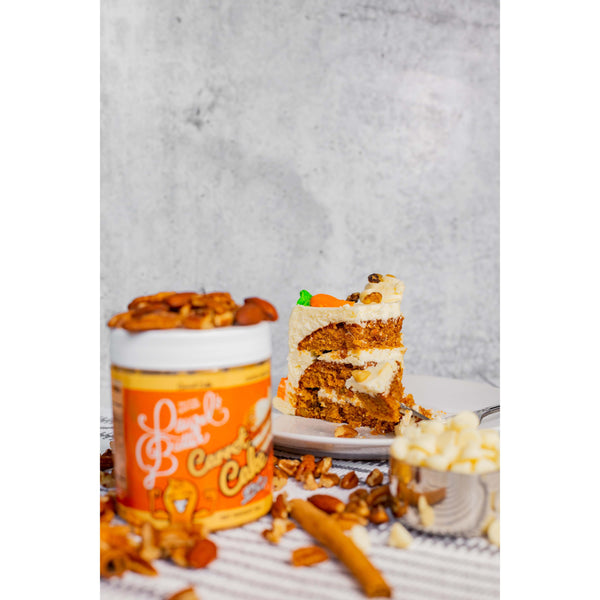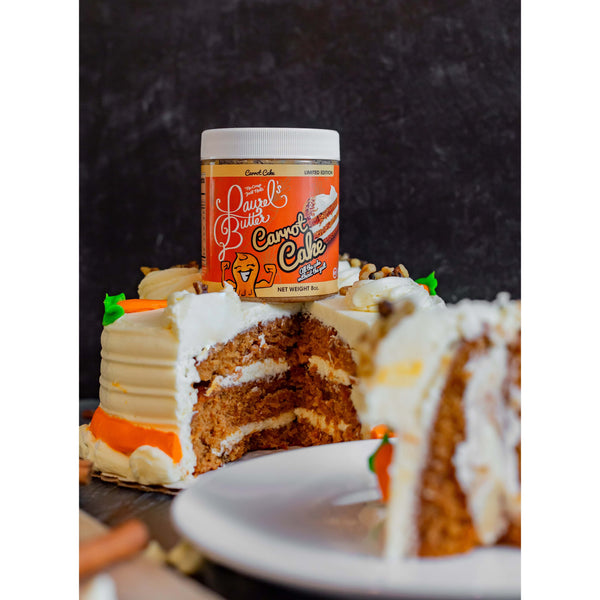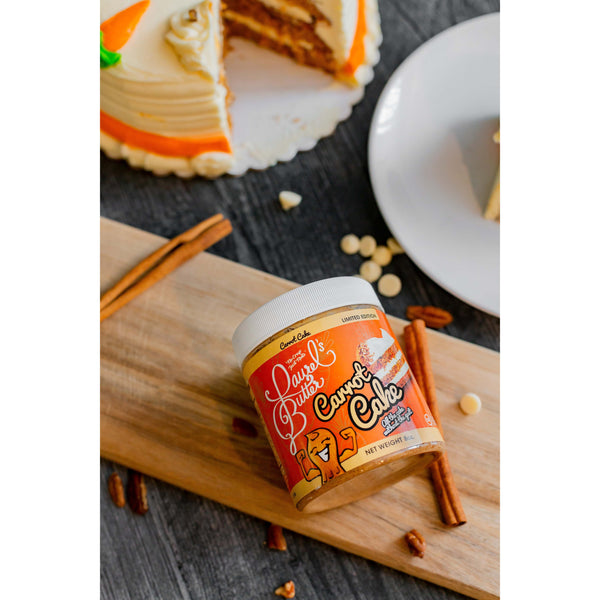 Do you know what's better than carrot cake? Laurel's Carrot Cake Nut Butter. Yes! Our legendary Carrot Cake Nut Butter is back. It's all the cake without the guilt. Our special carrot cake nut butter contains all the right ingredients without any added sugars to quench your sweet cravings.
The cake contains lots of unwanted calories you wouldn't want to fill your body with. Our brown butter carrot cake contains 8 grams of protein per serving. Plus, the minimal calories (160) per serving will not add much to your daily calorie intake.
The white chocolate, roasted almonds, pecans, organic carrot powder, roasted walnuts, nutmeg, sea salt, and cinnamon create the most delicious carrot cake butter you will ever taste.
It's absolutely healthy and gluten-free. Of course, we know there's no substitute for a carrot cake, but with minimum calories per serving, you might just stop eating the cake. Plus, this butter is the perfect topping for all sweet foods, especially ice cream and cakes.
Frequently Asked Questions
Our carrot-cake nut butter has no added sugars. It means our butter is perfectly healthy for everyone to consume – even the people following a diet.
The choices are limitless. With our butter, you can make multiple sweet dishes. The butter serves best in:
Carrot cake
Cake toppings
Topping on ice cream
Making cupcakes, cake pops, etc.
Laurel's Butter is the home of delicious and protein-filled nut butters. You can buy our carrot cake butter directly from the website. So don't wait any longer and try this limited edition deliciousness for yourself.
Finding Laurel's Butter was like hitting the Nut Butter jackpot for us! The best variety in flavors, plus all of the seasonal and super creative holiday flavors they have are AWESOME!
Michelle Randazzo
We literally can not get enough of these butters! We originally found laurel at the Sayville farmers market....but after moving down south we jumped on the subscribe & save option so now we get our butters every month & never run out!
Jessie Nunez
The Rainbow Cookie, Selfie & Dark Chocolate Sunflower are literally the BEST EVER! So good, so clea, so yummy! Yasssssss!
Danielle Sheridan
Don't forget
Small business thrives on good reviews & positive feedback! Please leave us a review if you loved your laurel's butter! The button is right above this box with a
" + "